IBC Welcomes Preferred Supplier Walter Surface Technologies into its Industrial Buying Group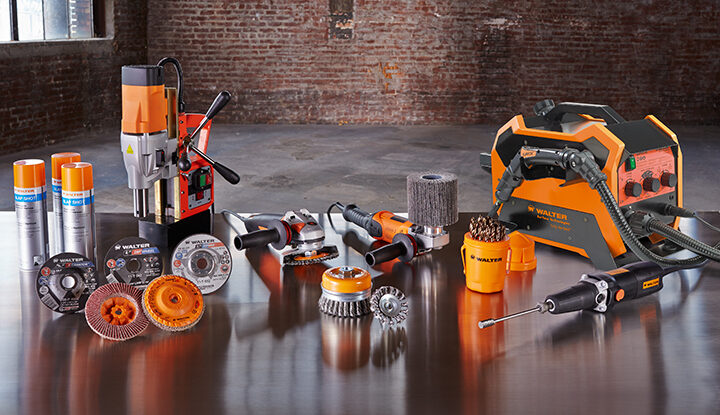 Walter Surface Technologies provides high productivity abrasives, power tools, tooling, chemical solutions and environmental solutions for the metal working industry.
IBC is pleased to announce that Walter Surface Technologies has joined its industrial buying group. Founded in Montreal in 1952, Walter is a leading provider of premium, consumable metal working products including abrasives, tooling, power tools, chemical solutions and welding process solutions.
The company serves a diverse array of end markets, including metal fabrication, transportation, construction, energy, mining, forestry and lumber, food and pharmaceuticals in 7 countries in North America, South America and Europe. BioCircle ® environmentally friendly and workplace-safe cleaning supplies and ALLSTEEL™ performance-engineered abrasives are brand names owned by Walter Surface Technologies.
"We welcome Walter Surface Technologies, a world class supplier, to the IBC community" stated Mark R. Higgins, Business Development, Relations and Recruitment. "The addition of Walter strengthens member choices in key categories and adds new product categories to IBC supplier portfolio. The growth opportunities are plentiful; we see this as a win-win."
"We are very pleased to be part of this dynamic group of independent distributors, and are committed to working with all IBC members to help them gain and develop new customers," stated Chester Collier, senior vice president at Walter. "We joined IBC because we saw that the IBC recipe allows independents to grow their business based on local conditions, while providing national support and programs to help them achieve results in this very competitive environment. It is quite different from other groups in North America," he added.
Industrial buyers served by the IBC network of independent distributors represent the automotive, aerospace, power generation, food and beverage, medical, chemical and paper industries, amongst others. In the U.S., it is estimated that independent distributors account for nearly two-thirds of all industrial supply chain sales.
For more information about Walter Surface Technologies, please contact Chester Collier, Senior Vice President, via email at ccollier@walter.com or visit www.walter.com.
For more information about IBC, please contact Mark R. Higgins, Business Development, Relations and Recruitment via email at mhiggins@industrialbuyers.com or visit www.industrialbuyers.com.
About Walter Surface Technologies
Walter Surface Technologies provides innovative solutions for the global metal working industry. From high performance abrasives, power tools and tooling to industrial parts washing systems, cleaners, degreasers and lubricants Walter focuses on helping its customers work better. Founded in 1952, the company today spans 7 countries throughout North America, South America and Europe. International headquarters is in Montreal and U.S. headquarters is located in Windsor, Connecticut. Key certification and awards include ISO 9001: 2008, Wall Street Journal Award; Deutscher Material Preiz; American Eagle Award; CleanTech Cleaning Technology Award. For more information, please visit www.walter.com.
About IBC
IBC is a robust and dynamic alliance of industrial, bearing and power transmission, electrical, and subassembly Independent Distributor Members with locations throughout the U.S. plus parts of Canada, Mexico and the Caribbean. The organization provides end-user customers with multiple plant locations a streamlined and cost-effective purchasing source for national and regional contracts. IBC provides its Independent Distributor Members and Preferred Suppliers with the tools, resources, and market access needed to thrive in today's competitive marketplace, including a unique collaboration forum. IBC is a Hispanic Minority Business Enterprise (MBE) certified by the National Minority Supplier Development Council (NMSDC).
#####