Pressure-Sensitive Adhesive Tape Products from Shurtape Technologies Now Available through the IBC Network of Independent Distributors
IBC independent distributor members provide Shurtape and other name brand industrial products to single and multiple plant end users throughout the U.S., Canada, parts of Mexico and the Caribbean.
IBC is pleased to announce that Shurtape Technologies, an industry-leading manufacturer and marketer of pressure-sensitive adhesive tape products, has joined the IBC industrial buying group as a preferred supplier. In joining IBC, Shurtape Technologies introduces its products into integrated supply chains in which IBC independent distributors are vital members, with locations in the U.S., Canada, Mexico and the Caribbean.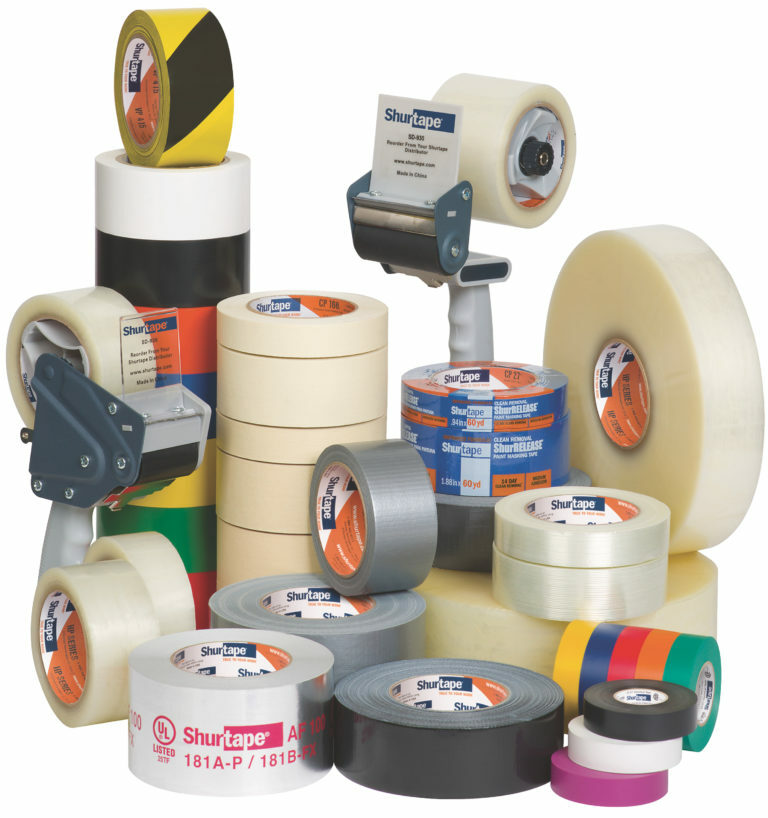 Pressure sensitive adhesive tapes from Shurtape Technologies, LLC are now available through the IBC network of independent distributors.
High-quality products bearing the Shurtape name include cloth and duct tapes; foil, film and foam tapes; paper tapes; packaging tapes, and double coated tapes, in addition to automated and manual tape dispensers. Commonly used in HVAC, electrical, painting, mechanical repair, carton sealing and facilities maintenance applications, Shurtape products are designed to meet or exceed industry and regulatory standards required of end users in the building and construction, industrial packaging, arts and entertainment, and industrial MRO supply chains.
Headquartered in Hickory, N.C., Shurtape operates facilities in nine countries and employs over 1,500 globally. Solely dedicated to tape manufacturing, Shurtape continues to deliver superior quality tapes on time at highly competitive pricing, worldwide.
"Providing our network of independent distributor members with access to the best products, most competitive pricing and most reliable suppliers contributes to growth and financial health throughout the end user segments and supply chains we serve," stated Mark R. Higgins, Business Development, Relations and Recruitment. "As an IBC preferred supplier, Shurtape allows our distributor members to deliver the best solutions with the highest benefits to their end-user customers."
"Shurtape is both excited and proud to become a preferred supplier of IBC," said Rob Nelson, Senior Regional Manager, Sales, at Shurtape. "Through this partnership, IBC members will have access to our comprehensive product portfolio, in addition to resources, training and education to help promote success within the group. We look forward to a rewarding partnership."
Industrial buyers served by the IBC network of independent distributors represent the automotive, aerospace, agriculture, food and beverage, medical and machinery manufacturing industries, amongst others. In the U.S., it is estimated that independent distributors account for nearly two-thirds of all industrial supply chain sales.
For more information about Shurtape products, contact Rob Nelson, Senior Regional Manager, Sales, via email at rnelson@shurtape.com or visit www.shurtape.com.
For more information about IBC, please contact Mark R. Higgins, Business Development, Relations and Recruitment via email at mhiggins@industrialbuyers.com or visit www.industrialbuyers.com.
About Shurtape Technologies
Shurtape Technologies, LLC, is an industry-leading manufacturer and marketer of adhesive tape and consumer home and office products, with facilities in the United States, Canada, United Kingdom, Germany, Mexico, Peru, United Arab Emirates, China and Australia. Together, our subsidiaries serve numerous markets, including industrial/MRO, building and construction, packaging, electrical, stucco, HVAC, professional paint, automotive, marine, aerospace, arts and entertainment, graphic arts, sound control, medical, DIY, home and office, and retail.
In addition to specialty adhesive solutions, Shurtape Technologies offers products under recognizable brand names such as Duck®, FrogTape®, Painter's Mate®, Shurtape®, T-REX®, and Kip®.
About IBC
IBC is a robust and dynamic alliance of industrial, bearing and power transmission, electrical, and subassembly Independent Distributor Members with locations throughout the U.S. plus parts of Canada, Mexico and the Caribbean. The organization provides end-user customers with multiple plant locations a streamlined and cost-effective purchasing source for national and regional contracts. IBC provides its Independent Distributor Members and Preferred Suppliers with the tools, resources, and market access needed to thrive in today's competitive marketplace, including a unique collaboration forum. IBC is a Hispanic Minority Business Enterprise (MBE) certified by the National Minority Supplier Development Council (NMSDC).
#####